Welcome to « SANDY », your lovely pied-à-terre for discovering Biarritz.
The space
In order to make your stay more enjoyable and to avoid any inconvenience or misunderstanding, we invite you to read the advertisement to the end before booking. Thank you for your attention and for your understanding.
Welcome to SANDY, your little corner of modern comfort for a pleasant stay! Nestled in a quiet, residential street, this 50 m2 flat offers everything you need for a successful stay.
The two comfortable bedrooms are perfect for up to 4 people. The first bedroom has a king-size bed, providing a peaceful and relaxing sleeping area. The second bedroom has a 180 bed, which can be converted into two 90 beds, offering flexibility in sleeping arrangements.
The living room is equipped with a comfortable sofa, coffee table and flat screen TV for your relaxation. The kitchen area is fully equipped with an SMEG fridge, ceramic hob, extractor fan, oven, microwave, coffee maker, toaster, kettle and crockery to prepare your meals like at home.
The modern bathroom has a shower and sink, while the toilet is separate for added convenience. The flat is also equipped with Wi-Fi internet access to stay connected, as well as a washing machine. An iron and ironing board are also available.
Ideally located, you will be close to the shops, the city centre and the beach, which is only a 15-minute walk away. Enjoy the comfort and modernity of SANDY to relax and rejuvenate during your stay. Book now and discover all that this charming rental has to offer!
Services included for this stay include:
Welcome products: Upon arrival, you will find welcome products to start your stay comfortably (soap, shampoo, toilet paper, and other essentials).
Bed linen and towels: Bed linen is provided and beds are made for your arrival. Towels and bath mats are also included. All these items are cleaned and disinfected by our professional laundry, Homies Eco Pressing.
End-of-stay surface cleaning: After your departure, the cleaning staff will perform a surface cleaning to prepare the property for the next guest.
The neighborhood
The flat is located in the Chelitz / St. Martin district, close to the city centre, in a quiet street. The street is close to several shops and services, such as restaurants, shops, a pharmacy, etc. There is a mini-market in the immediate vicinity of the flat.

You can also enjoy the Grande Plage, which is a 15-minute walk away. In short, a pleasant area of Biarritz.
Getting around
If you are looking to get around Biarritz, here are some options:
Free shuttle N11: This free shuttle serves the city centre and the Lighthouse. The stop is less than 100 metres from your point of departure, making it very convenient. You can check timetables and stops on the Txik Txak website.
Taxi: Taxis are a quick and convenient way to get around Biarritz. It takes about 10 minutes to get to the train station or airport. The fare for this distance is about 15-20 euros during the day.
Parking: If you prefer to drive, you can park your car on the street or nearby. It is advisable to check the signs to avoid parking violations.
Other things to note
Here is the information regarding booking requirements and check-in options for Homies Holidays:
Once the booking is confirmed, the Homies Holidays team will contact you to arrange your stay.
For your check-in: you will be met by a member of the Homies Holidays team between 4pm and 7pm. If you arrive after 7pm, a supplement of 30 euros will be charged. And 50 euros if you arrive after 9pm.
Homies Holidays invites you to take note of the rules and regulations which are automatically accepted at the time of booking to avoid any misunderstanding.
+ More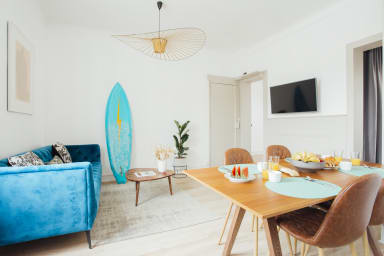 Homies Holidays-Biarritz-luxe-appartement-villa-conciergerie-pays basque
Homies Holidays-Biarritz-luxe-appartement-villa-conciergerie-pays basque
Homies Holidays-Biarritz-luxe-appartement-villa-conciergerie-pays basque
Homies Holidays-Biarritz-luxe-appartement-villa-conciergerie-pays basque
Homies Holidays-Biarritz-luxe-appartement-villa-conciergerie-pays basque
Homies Holidays-Biarritz-luxe-appartement-villa-conciergerie-pays basque
Homies Holidays-Biarritz-luxe-appartement-villa-conciergerie-pays basque
Homies Holidays-Biarritz-luxe-appartement-villa-conciergerie-pays basque
Homies Holidays-Biarritz-luxe-appartement-villa-conciergerie-pays basque
Homies Holidays-Biarritz-luxe-appartement-villa-conciergerie-pays basque
Homies Holidays-Biarritz-luxe-appartement-villa-conciergerie-pays basque
Homies Holidays-Biarritz-luxe-appartement-villa-conciergerie-pays basque
Babysitter recommendation
Coffee Maker
Contemporary
Dishwasher
Downtown
Essentials
Fridge
Full Equipped Kitchen
Hair Dryer
Hangers
Heating
Hoover
Hot water
Internet
Iron
Kettle
Kids Friendly
Linen Towels
Microwave
Near ocean
No single-use toiletries
Oven
Pets Considered
Smoke Detector
Smoking Forbidden
Suitable for children (2+ years old)
Suitable for infants (under 2 years)
Toaster
Town
Tv
Washing Machine
Reviews
JEAN F.

France

JEAN F.

France

Location à éviter

Si vous dépassez le sentiment d'entrer dans un squat (porte de l'immeuble ancienne, non entretenue, au verrou cassé, qui grince au sol, donnant accès à deux rangées de boites aux lettres sans savoir laquelle des deux est obsolète, puis à un escalier dont l'ancienneté des marches n'autorise plus leur réparation, le tout sous une lumière qui a oublié sa vocation d'éclairer, et sans omettre un dépôt de planches et de papiers au sol qui attendent une décision), vous découvrez l'appartement avec sa salle d'eau dans un placard, des volets d'époque et un canapé qui pique en présence de quelques grains de sable. Vous entrez alors dans un univers pérenne de bruits en tout genre (immeuble mal isolé, fenêtres donnant accès immédiat au patio des voisins et à un commerce qui exerce son art du tatoo à toute heure et en musique). Vous découvrez enfin que sa localisation peut être à 10 m à pied du centre ville comme annoncé, mais uniquement pour des personnes en forme olympique.

---

Giovanna L.

Switzerland

Giovanna L.

Switzerland

Déçus par notre séjour

L'appartement se situe dans un vieil immeuble qui ne présente aucune isolation aux portes et fenêtres. Le quartier est un peu décentré. L'entrée et les escaliers de l'immeuble sont sombres et sales. L'appartement, certes lumineux, dispose de deux belles chambres et d'un joli living. Pas vu le surf qui est présenté sur les photos. La cuisine est bien équipée. La literie est bonne. Il n'y a pas de vraies armoires et rangements dans les chambres, il était difficile de sortir nos affaires des valises. La salle de bain est un cagibi. Difficile de faire sécher nos maillots et les linges de bain. La fenêtre des toilettes donne sur les canalisations de l'immeuble. On a souffert du voisinage extrêmement bruyant, nous empêchant de dormir plusieurs nuits. J'ai trouvé que le rapport qualité prix de l'appartement était excessif et mauvais. Les enfants et moi avons été très déçus.

---

Estelle P.

Estelle P.

Séjour agréable

L'appartement est agréable et fonctionnel

---

Mathilde M.

Mathilde M.

Un appartement cosy 🥰

Appartement très cosy dans lequel on se sent comme chez soi :) Centre ville et plages accessibles à pieds en moins de 10min!

---

Rachel K.

Rachel K.

Fortement recommandé!

Un séjour quelques jours à 10min à pied des Halles dans un quartier très calme. Hyper propre, agréable, lumineux, j'espère même y retourner!! Service Home holidays très pro et réactif à tous niveaux.

---

Cédric L.

Cédric L.

bel appartement agréable et bien décoré

A part 1 ou 2 détails pratiques ( volets qui ferment mal et 1 étagère en plus dans la chambre à 2 lits qui seraient pratique pour ranger les affaires), le logement est un très bon rapport qualité/prix. Par contre, pour les surfeurs, aucun endroit pour faire sécher les combi (à part la douche) et poser la planche de surf. C'est dommage ...

---

Unai Q.

Unai Q.

Perfect stay, we will repeat

The apartment was perfect for a 4 people family. It was very clean, spacious, modern and well equiped. The beds were very comfortable and big. The location was very silent and peaceful. Our stay has been perfect, we will repeat again! 😍

---

Marie J.

France

Marie J.

France

Correcte

Revoir les fermetures des volets à l'extérieur, les jours de vent et de pluie ça n'est pas efficace.

---

Philippe H.

France

Philippe H.

France

Confortable au calme

Appartement très fonctionnel, bien équipé pour cuisiner, épicerie juste à côté, très agréable. Confortable et au grand calme.

---

Melanie V.

Belgium

Melanie V.

Belgium

Top appartement

Bien situé, propre, spacieux, super!

---

Denis D.

Russia

Denis D.

Russia

Home

It was a real home for a week. Cosy, sunny.

---
Show more ↓